Today we made an interview with Gabriella, our Head of Art and Gábor, our Illustrator.
---
How did your career develop from an artist to a fantasy gamebook app illustrator? What was your biggest non-games related project?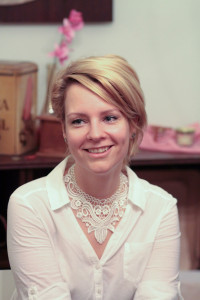 [GÁBOR] My earliest memories about myself is me drawing. I was drawing pictures all the time when I was a kid. I was infatuated with illustrations so I decided to study in this field. I went to an art high school to become a goldsmith, and later I choose the University of Fine Arts and majored in graphic design. It gave me a good basic in traditional and digital techniques.
I've been doing sci-fi and fantasy illustrations since 1995, I have more than a thousand illustrations published in magazines, newspapers, training materials and trading card games. I started this in parallel during my university years. I'm also working in animated movies as background painter, my greatest success was when I could work in George Lucas's Red Tails as digital matte painter.
[GABRIELLA] My main area is corporate design, web design and I also do wedding design. I work for SMEs and large enterprises as well. So how I got into Narborion? My friend Dan asked me to. I enjoyed this work enormously, especially figuring out the general visual atmosphere of the game. It was a completely new area for me, I just loved to submerge into the world of old scrolls, monsters and blood…
Is your work approach traditional pen and paper or mostly digital? What are the main steps creating Narborion Saga art?
[GÁBOR] Digital techniques ease our life tremendously, but I often use pen and paper as well. When I'm traveling home to visit my family, for example, I use pen and paper on the train.
With Narborion Saga, I've been using both techniques, but mainly digital. Sketches were made on computer as well and it was hard work to make it look like a hand-drawn facture with spatters. I have a large library and I re-used some old factures for these drawings. I tried to preserve the dynamism of hand-drawings on the illustrations to create the desired effect.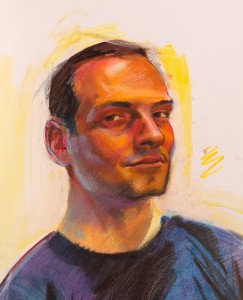 [GABRIELLA] I'm a digital girl, using only software to create the layout plans of Narborion Saga. The backpack, character sheet, spellbook and other pages of the book have been created on my laptop as well. I did lots of research before starting this project, looking at old folios, tabletop role-playing handbooks and medieval artwork to receive inspiration.
Where do you get inspiration for the artwork?
[GÁBOR] I regularly check "CG society" which is always like a visual shock to me, overwhelming my senses completely. 9 years of education in art mixed with being an avid comic book fan had a great influence on me.
[GABRIELLA] Before I started the work we had lengthy discussions with Tom and Dan about the visual atmosphere of Narborion Saga. I just listened and listened, taking pages of notes, references… Then I sat down with Gábor and discussed all of these to figure out the style and mood of the illustrations: the sepia – golden – brown combination with that reddish claret color. Gábor used my initial design drafts as starting points for the illustration.
Which Narborion Saga character was the biggest challenge for you to draw?
[GÁBOR] I honestly cannot remember! J When I start drawing, I instantly lose my conscious self and I get into this flow state… I start working, time is passing and I suddenly realize it's midnight.
Do you usually work alone or are there people around who influence your work during the creative process?
[GÁBOR] Nowadays I'm working as a freelancer but this particular work had been an iterative process. We discussed the style at the beginning but it has evolved a lot during the work itself. I had complete freedom in figuring everything out, which was great. You don't find a team like this often.
[GABRIELLA] Tom and Dan had been my greatest inspiration. Once I put a bit too much blood on a particular design and Tom started to look oddly at me. J It was a very fluent cooperation with the team. I loved it! I hope there will be many more books so we can work on this for years!